Mimi and Warren Karesh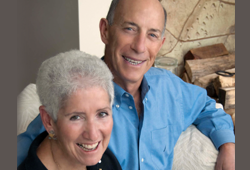 In March 1972, Warren and Mimi Karesh, with their two young children Michael and Sara, moved to Tidewater so Warren could join Drs. Robert Rubin and Sherry Hamilton in their dental practice. Within their first year in Tidewater, the Kareshs knew they had found their home. They quickly became enthusiastic, active members of the Jewish community of Norfolk and Virginia Beach.

In the early 1970s, neither the local Jewish community, nor Israel, was financially well off. Additionally, as the 1973 Yom Kippur invasion of Israel proved, Israel was not yet a safe haven for Jews around the world. A new Young Leadership Program had just evolved in Norfolk, and the Kareshs were swept up in the effort to focus attention on saving Jewish lives throughout the world by the preservation of Israel, itself. In February 1974, five Young Leadership couples, including the Kareshs, arrived in Tel Aviv on a mission sponsored by the Federation. According to Warren, their goal was, "to plant a tree, and see what this young country was all about."

Warren continues, "Many of our eyes were opened by that trip, and all of us from Tidewater were excited to be among the Jews who settled the land and transformed desert into greenery. We were filled with pride over the ability of these people and their military to repel their enemies just three months earlier. We were also proud that the USA, under President Nixon, had been of such significant help."

The Kareshs, who had grown up in South Carolina, followed by three years in Martinsville and six years in Richmond, VA before settling in Virginia Beach, were now "hooked" on being a part of a Jewish future.

The sights and sounds of Israel – sharing in the social and military life of this beleaguered refuge for Jews – did all that was necessary to firmly replant the Kareshs' roots. An "in your face" encounter that occurred in the Sinai Desert and Suez Canal resulted in the confinement of all the mission's men in an Egyptian jail for a day and dramatically added to making this trip one of a kind. Overnight, this became more than a trip; it was news around the world. For Warren and Mimi, the impact of that first trip lingers. Much of their fundraising for, and participation in the Jewish community over the years, is a direct result of that first trip.

Mimi served as President of Beth Sholom Home of Eastern Virginia, Chair of the Federation's Women's Campaign, and was particularly active on the Board of Hebrew Academy of Tidewater (HAT). She was a founding member of the Women's Center Advisory Board of TCC. Mimi has been recognized for service in the community at large at an annual dinner of the NCCJ and received the Federation's Joseph Strelitz Young Leadership Award. Warren served as Vice-President of UJFT responsible for cash collections for several years. Temple Emanuel "called" and he served on the Board, eventually becoming Vice-President and then President. Because Warren and Mimi wanted their two children to receive a Jewish education, both Michael and Sarah attended HAT through the sixth grade. The younger Kareshs have now passed that experience on to their own children: Lena, Benton, Judah, and Sadie.

To leave a legacy for the Jewish community, Warren and Mimi established the Karesh Family Restricted Fund through the Tidewater Jewish Foundation. They established this through a revocable trust which accords them the flexibility to make changes to adjust for future circumstances. In reaching this decision to plan for future generations, they fully credit Philip Rovner for his "guidance, good sense, trust, and the confidence that these funds will be used in thoughtful and meaningful ways."

Mimi & Warren Karesh: This story was written in 2012.

For more information about how you too may Create a Jewish Legacy, please call or email Scott Kaplan President and CEO with the Tidewater Jewish Foundation at 757-965-6111 or skaplan@ujft.org.