Marcy & Paul Terkeltaub Insure The Future Of Our Jewish Community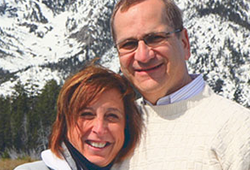 Both Paul and Marcy Terkeltaub credit their parents Victor and Fannie Terkeltaub (of blessed memory) and Kurt and Rose Rosenbach for instilling in them the desire to raise their children in a Jewish environment. "Our parents also taught us the value of tzedakah and the importance of giving back to the community," said Paul. "This type of belief and dedication to the Jewish community has to be carefully taught and practiced over a lifetime and our parents have been great teachers and role models."

Paul and Marcy, who were both born and raised in Tidewater, met at a B'nai B'rith Youth Organization (BBYO) function at the age of 16. "We have benefited greatly from the Jewish community through our temple life, BBYO, United Synagogue Youth and tennis at the JCC. In addition, our children derived the same benefits from preschool at the JCC, attendance at Hebrew Academy, temple functions or BBYO," said Marcy.

"Through our personal involvement in the Jewish community, we have had the opportunity to observe our parents and many members of their generation exhibit generosity, love and affection for the Jewish community", added Paul, "which inspired us to want to do our part to help perpetuate our Jewish institutions."

The Terkeltaubs established a $500,000 life insurance fund with The Tidewater Jewish Foundation, naming their children, Jennifer and Brandon, as successor advisors. Paul and Marcy structured the gift so that once they have passed away, Jennifer and Brandon will be able to distribute approximately $20,000 a year to charity, fifty percent of which is earmarked to benefit our local Jewish community and fifty percent that can be used for either Jewish or secular charities.

"We wanted our children to be able to donate to charities that they cared about, but never forget the Jewish community in which they were raised," said Paul. "Through this gift, our children will forever be connected to the local Jewish community regardless of where their lives take them. We hope that as they mature they will develop the same devotion to the Jewish community and be able to meet their philanthropic desires as their grandparents and parents have done."

As a managing partner of the Frieden Agency, Paul often recommends life insurance to his clients as a vehicle for philanthropy. Sometimes this takes the course of a new policy and sometimes it takes the course of a policy that is no longer needed. Either way the charities benefits. "I felt it was time to practice what I preach," he said.

Paul also pointed out that many older people in the community have policies that they don't need any longer. Gifting these policies to charity can offer tax advantages and provide a vehicle to make a significant and meaningful gift to the community. "When it all comes down to it," said Paul, "you really don't have to be a millionaire to be a philanthropist."

Marcy & Paul Terkeltaub: This story was written in 2012.

For more information about how you too may Create a Jewish Legacy, please call or email Scott Kaplan President and CEO with the Tidewater Jewish Foundation at 757-965-6111 or skaplan@ujft.org.