Beth and Nathan Jaffe Create a Jewish Legacy For Jewish Family Service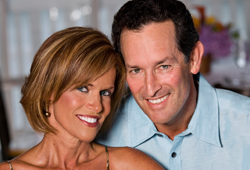 In Memory of Melissa

When Beth and Nathan Jaffe married in 2008, they joined their passions for the Tidewater Jewish community and their desire to help those in need. Although Beth and Nathan have offered their time and expertise at many Jewish agencies throughout the years, they most recently endowed their commitment to Jewish Family Service (JFS).

"Both Beth and I were raised in families where we learned the value of tzedakah and tikkun olam," said Nathan. "Both of our parents believed strongly in the philosophy that giving back to your community comes back to you ten-fold."

When Nathan's sister Melissa passed away unexpectedly this past October, the couple realized that this was an ideal time to create an endowment for JFS in her memory. "Although Melissa had not lived in the Tidewater area for more than ten years, she always remained interested in our family's community involvement and the work we did at JFS," added Nathan.

Both of Nathan's parents utilized the home health component of JFS in their later years. "JFS is like family," said Nathan. "They were there when we needed them most and enabled my parents to live in their own home, offering them a greater quality of life."

Beth added, "I remember how grateful my parents were for the care that JFS provided for my grandfather. Several years later, both my parents utilized JFS as they recovered from surgery. It was comforting to know we had a top-notch team in place."

It was through their mutual involvement as JFS board members that Nathan and Beth came to completely understand the breadth of services the agency provides for people of all ages and ethnicities.

Nathan served as president of JFS from 2006–2008 and has been a board member since 1998. Beth joined the board in 2008 and now serves on the executive committee.

"During my presidency, I realized how vulnerable all non-profit organizations are that rely on fundraising and distributions from agencies such as the United Way or our Federation," said Nathan. "Growing the agency's endowment is the key to a stable and secure JFS."

Beth's prior involvement with the Tidewater Jewish Foundation as Director of Marketing gave her the framework to also appreciate the value of endowment funding. "When you create a legacy gift, you not only strengthen an agency, but you also give a gift that lives on in our community for generations to come," added Beth.

"We are so proud to continue our family's philanthropic spirit," said Nathan. "Beth and I are honored to create our first endowment in memory of Melissa for the benefit of an organization we both care so deeply about."

Beth & Nathan Jaffe: This story was written in 2013.

For more information about how you too may Create a Jewish Legacy, please call or email Scott Kaplan President and CEO with the Tidewater Jewish Foundation at 757-965-6111 or skaplan@ujft.org.