Robin and Kenny Murov Create a Jewish Legacy on the Virginia Peninsula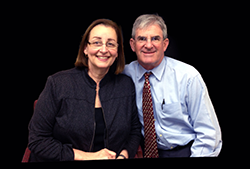 Robin and Kenny Murov have been residents of the Virginia Peninsula for 38 years. They care deeply about their family, Judaism and their community. This love and compassion is evident in everything Robin and Kenny do. Their commitment to their heritage and to the future of the Jewish community that has been so good to them is why they chose to Create a Jewish Legacy.
Both grew up in small Jewish communities; Robin is originally from Bedford, Virginia and Kenny is from Shreveport, Louisiana. "Bedford only had three Jewish families, so my parents had to drive to synagogue in Roanoke and Lynchburg. It was very difficult," Robin remembers. "My grandmother sent all of her grandchildren to Jewish summer camps, so that we could get out of small towns." It was at Blue Star Camp in North Carolina, where she attended when she was seven years old, that Robin recollects discovering her Jewish identity. She returned home from camp and exclaimed to her parents that she was moving to Israel.
Kenny's path was different. "I was part of the largest Jewish family in my community. Between first and second cousins of my generation, there were 23 or 24 of us, plus my brother," Kenny recalls. The area of Shreveport he grew up in was very secular-there wasn't much Jewish life outside of the synagogue. It wasn't until he attended college at Washington and Lee University (where he met Robin) that he experienced for the first time through his fraternity what it was like to be a part of a focused Jewish community. Almost all of his brothers were Jewish. This experience was impactful on his life and his identity. Today, Kenny still connects with many of his fraternity brothers on a regular basis.
"We've been involved in the Jewish community from the time we first moved here," said Kenny. This involvement includes a long-standing membership with Rodef Sholom Temple in Hampton, where both Kenny and Robin are past presidents of the Temple, and Robin was also president of the Sisterhood. Kenny also served as president of the JCC when it was separate from the Federation. He is currently serving as Campaign Council Chairman for the United Jewish Community of the Virginia Peninsula, where he also served as president. Robin continues to volunteer regularly and plays mah-jongg with a group she has played with for years. "This community has been wonderful to us, to our children. That's why it's very hard to say no. You sometimes have to remember what hat you're wearing," said Robin.
The Murov's three children, twin daughters Rachel and Sarah and son Jacob, were all active in the JCC and in their Jewish community while growing up. The girls were active in BBYO, and all three children attended Jewish summer camps such as Ramah and Timber Ridge. Now, Sarah lives in New York City; Jacob, his wife Lauren and two children live in St. Louis, Missouri; Rachel, her husband David and two children live in Boca Raton, Florida. All three opted to live in large, thriving Jewish communities. "Our daughter Rachel worked for AIPAC for 13 years. Three of the four grandchildren attend Jewish day schools," Robin said. They are proud of the lives their children have built, and that they have remained active in their communities and synagogues.
"I would say that my hobby is my grandchildren. I try to visit every other month," said Robin. Referring to Kenny's hobby: "He's a golf addict."
Though they know their children will most likely not return to the area, they acknowledge that it was an important part of their earlier lives and upbringing. "It's our community and it's their community. We're not going to be here one day, so we decided to make a small mark for when we're not here," Kenny said, and Robin agreed.
Robin and Kenny decided on a second-to-die life insurance policy to secure their legacy, concluding that this was an economical and prudent means to fulfill their philanthropic desires. Their gift will ultimately benefit the United Jewish Community of the Virginia Peninsula and Rodef Sholom Temple. Arrangements to identify and secure this gift were made with the assistance of the Tidewater Jewish Foundation.
Robin and Kenny Murov: This story was written in 2013.
For more information about how you too may Create a Jewish Legacy, please call or email Scott Kaplan President and CEO with the Tidewater Jewish Foundation at 757-965-6111 or
skaplan@ujft.org
.